Post-PhD Life: When I Grow Up...
Once you leave the cozy womb of PhD-dom (and no matter the levels of research- and writing-up stress, it is cozy insofar as it is your status quo!), you have to figure out what you want to do with the rest of your life. This usually involves picking up the pieces of your long-neglected personal life, and also job applications. Somehow, decisions on both fronts seem significantly more important and life-altering than they did while you were making "temporary" arrangements as you were writing the thesis.
Full disclosure: I am in my early thirties, and staring down the barrel of my diminishing fertility at the same time as my partner and I decide where and how to live our much-delayed "future", although we are both chronically under-employed. Ours is a generational quandary: the promises of full-time predictable employment haven't materialised as the baby boomers can't afford to retire, and we can't afford to start our lives. Especially for people like me, whose income depends on the whims of government funding, any planning seems foolhardy in the face of overwhelming uncertainty. Sure, I could try to get work stacking shelves at a grocery store, but that wouldn't really solve the problem: I would still be under-employed for my qualifications. Plus, there's always just enough contract work in my field to keep the spark of hope alive!
And yet choices do come up. About a month ago, I was encouraged to apply for a job developing a new museum. Lots of things were right: the geographical area, the potential colleagues, the optimism... And yet, I wondered whether even applying was the right decision. I have cobbled together part time lecturing gigs and have started to enjoy myself; there are glimmers of hope for future prospects in this area. I found myself at the classic Museum Studies PhD crossroads: "industry" or academia? My main concern was that although my degree won't go anywhere, academia tends to be rather unforgiving of gaps, even if they are for good reasons like "real-world experience". In museum studies, professionals can move fluidly from museums to universities, but I was worried that to zig-zag like this so early in my career might not put me ahead in either area; people might wonder where my loyalties really lay.
In the end, my quandary was resolved by the simple fact that I was not available to start when necessary - they hired someone else. So I will continue doing the sessional dance (splitting my time between institutions, no benefits, no job security, but lots of flexibility) for the time being, and hope that something more permanent comes up before my ovaries expire. (Let's not kid ourselves - underemployment, even in the developed world, is a Marxist and a feminist issue!)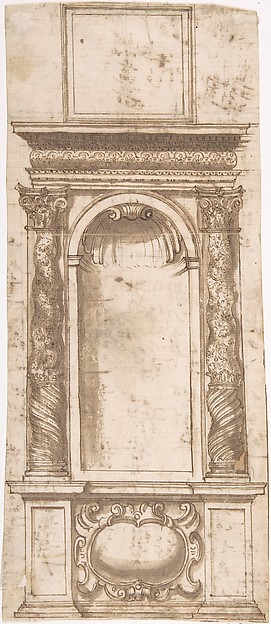 16th century Italian drawing of a niche:
http://www.metmuseum.org/Collections/search-the-collections/90009438
So don't let late-stage industrial capitalism get you down! After all, heritage is a constantly growing field - every minute, there is more of the past to study. It may require some tough choices, and lots of compromises, but everyone has their niche, and occasionally, we are lucky enough to find it. Hopefully, it's empty when we get there!
P.S.: when I was tagging this post and typing "work", auto-correct tried to change it to "woe." Hmm...