Historical Hot Or Not VIII
It's back across the Atlantic to New York in this week's edition of Museum Hot Or Not. Today's candidate is a lady close to my heart because of her eccentric spirit, philanthropic leanings, and interest in textiles. Eleanor Cooper Hewitt, along with her sisters Sarah and Amy, founded a decorative arts museum in 1897 as part of their belief that design students should have access to the best teaching materials. Today, the
Cooper-Hewitt National Design Museum
makes its home in a Gilded Age mansion on Fifth Avenue on the Museum Mile in Manhattan, is a subsidiary of the Smithsonian, and is a major venue for cutting-edge design exhibitions and competitions. It is the only museum in the US to be solely devoted to design. The shop has one of the best selections of books on design I've ever seen, and a great selection of quirky but beautiful objects.
Eleanor (1864-1924) and her sisters were born into a prominent family - their father had been New York's mayor, and their grandfather had made a fortune in industry before founding a practical free school for adults in 1853 called the Cooper Union for the Advancement of Science and Art; it was with this school that the collection they amassed was first affiliated. Unlike her eccentric sister Sarah, Eleanor was quieter and kinder, but was very physically active and gregarious, enjoying sports and dancing. Apparently, she embroidered and sketched, invented a system of stenography, and was one of the earliest women typists in the country. Clearly, she was a pioneering spirit, and this was reflected in her collection, as the decorative arts were one of the few aesthetic and practical fields open to women at the time, a career aspiration she supported through her museum's educational philosophy.
Unfortunately, only one image is available online of Eleanor, and it is small:

Portrait of Eleanor Gurnee Hewitt by Antonia de Nañelos, 1888, Smithsonian Institution.
Here's a larger version, which is sadly of poor quality.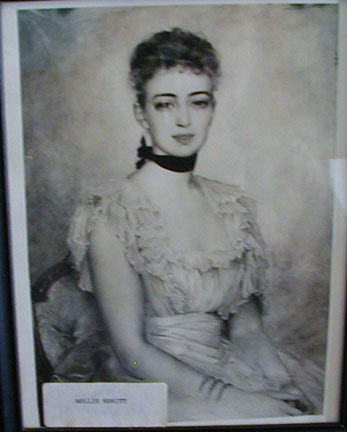 Eleanor's delicate feminine beauty is pretty evident here, though. What do you think?