Historical Hot or Not X
One thing I've learned (yes, this is an educational exercise!) while researching candidates for Museum Hot or Not has been that America has a strong philanthropic history largely unmatched in other countries around the world. That is, whereas in Europe, museums were generally founded by monarchs and aristocrats, and added to by the same, in America it is more likely that wealthy patrons, not necessarily collectors themselves, make museums possible. Having said that, however, this week's candidate (and the last, I'm afraid - museum people are not, as a whole particularly attractive, and if you thought some of the ten people I've presented for consideration have been ugly, you should have seen the rest!) was a member of America's aristocracy, such as it was, and was involved in the arts personally.
Gertrude Vanderbilt Whitney (1875-1942) was, as her maiden name suggests, one of the heiresses of the Vanderbilt fortune. She married a wealthy oil/tobacco/banking tycoon (as you do), and went on to do whatever she wanted. Fortunately for American art, she chose to take up sculpture, patronize music and art, and promote women's artistic education. In 1931, still stinging from the Metropolitan Museum of Art's rejection of her collection of American art by living artists, she founded her
own museum
, the first director of which was a woman. As you can probably guess, she was a pretty groundbreaking lady; but what of her aesthetic appeal?
Unknown photographer, Gertrude Vanderbilt Whitney ca 1910, Smithsonian Institution.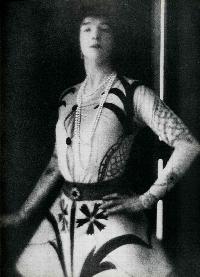 Gertrude Vanderbilt Whitney wearing a Leon Bakst costume in 1913-4 by Baron Adolphe de Meyer.
Robert Henri,

Gertrude Vanderbilt Whitney

, 1916. Whitney Museum of American Art, New York
Gertrude Vanderbilt Whitney wearing a jeweled gown and tiara and holding a peacock feather fan by Adolphe de Meyer, 1916. Published in:

Vogue

, Jan. 15, 1917.

As I've already said, this will be the last Museum Hot or Not; if I can get the technology to cooperate, I will be posting a poll next week, so you can all vote on the Ultimate Museum Hottie!