Historical Hot or Not VI
Today's museum hottie isn't a museum person
per se
. Catharine the Great (1729-1796), a German princess who became Empress of all the Russias in the 18th century, built the building and amassed the bulk of the collection that would become one of the world's greatest museums. The Hermitage was her private palace, and the collection of art, sculpture, decorative art, and ethnographic material that filled it was by-and-large purchased from the estate sales of European collectors on her behalf by agents.
It was only opened to the public in 1852
, 88 years after its founding, and didn't become a national museum until after the Revolution. Still, it is only due to Catharine's Enlightenment ideals that Russia possesses any relics of European culture worth speaking of.
Portrait of Catharine Großherzogin von Rußland von Anhalt-Zerbst (Princess Sophie Friederike Auguste of Anhalt-Zerbst, later Catherine II of Russia), 1745, Kunstsammlungen der Veste Coburg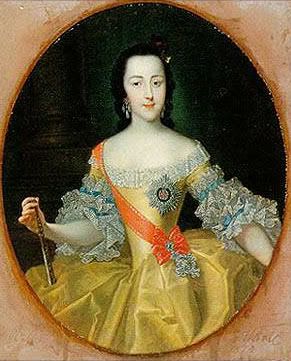 Portrait by Georg Christoph Grooth of the Grand Duchess Ekaterina Alexeevna (later Empress Catherine II of Russia/Catherine the Great) painted circa 1745, Hermitage Museum, St. Petersburg, Russia.
Portrait of Grand Duchess Catherine Alexeevna, the future Catherine the Great of Russia, from 1745, painted by Louis Cavaque.
We tend to remember Catharine as a portly oversexed despot; but before the many lovers, the killing of her husband, the brutal political repressions, she was a clever, sprightly, and lithe young
fraulein
with great promise. Recall that she was once played in a film by the great Marlene Dietrich. So: hot or not?